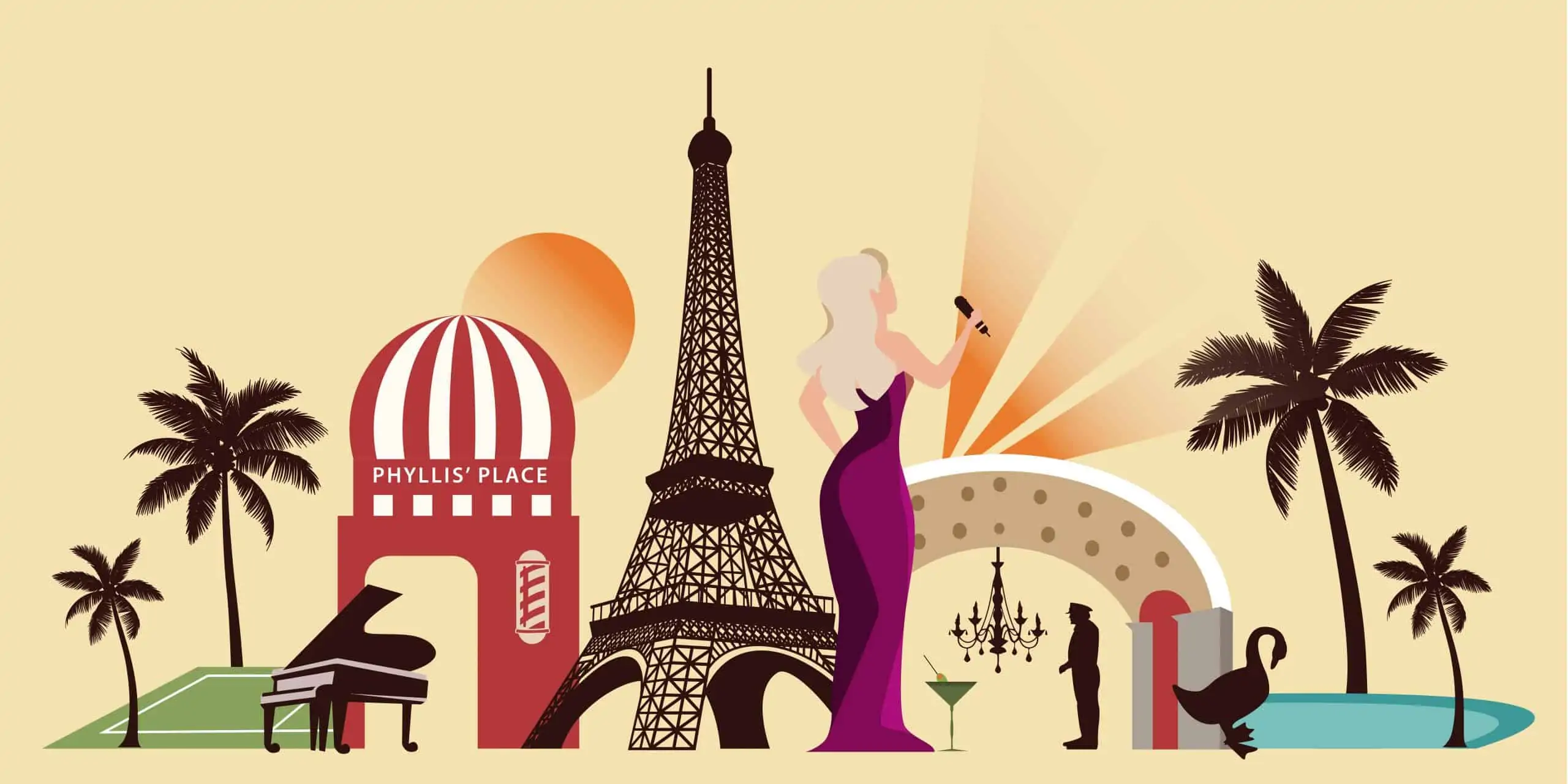 February 17, 2021 |  By  Liz Chaffin
With its colorful past and history of notorious residents, Vegas boasts its share of eclectic homes. This blog series will offer a glimpse into some of these residential treasures that are nothing short of jaw-dropping. One can buy some of them, too, and ensure their home looks like no other. Here's the first:
At the end of a sprawling lawn that leads back from Rancho Circle, once the exclusive enclave of Vegas' most infamous casino moguls and mobsters, sits the majestic home of Phyllis McGuire. Recently deceased, she was the last living member of The McGuire Sisters, and though she leaves no heirs behind, this ostentatious 26,000 sq. ft. home where famous 1960s stars cavorted, is a heck of a legacy. 
Turns out, she was a tiny bit fond of Paris, and arranged for a 45-ft Eiffel Tower replica to rise up through the roof from the home's center. Apparently when one can't live in Paris, one brings Paris home. Other homages to the City of Lights include an entryway designed to look like the Arc de Triomphe and more classical statues than the Louvre. Upholstered chairs, crystal chandeliers, satin couches and priceless antiques add to the glorious French theme. If one lived here, they could arrange a rendezvous at the nook under the Tower and relish in the atmosphere of a romantic French film. Ooh la la!
When nature calls, there's the large guest bathroom complete with three stalls. The Parisian pink cabinets, floral wallpaper, checkered ceiling and gold everything might lead one to suspect they've been teleported to Versailles. Not to worry. This bathroom is in Vegas, though it is rumored that Louis XIV may have been a design consultant. 
The basement doubles as a personal cabaret. The ballroom will host several hundred friends comfortably complete with a grand piano, a full bar, billiards and plenty of martinis to go around. This place was meant for quarantining. One could spend hours just browsing the many photos of The McGuire Sisters in their prime as they listen to their famous hits over the speakers. Book some entertainment and a caterer, send out the invites and the place is ready for a swanky affair. 
Venture outside for two crystal blue pools and a tennis court worthy of Serena. There's also Phyllis Place, a soda fountain decked out in blue and red patterns that's ready for grilling burgers and scooping ice cream. Fountains pepper the lawn and birds sing as they fly from treetop to treetop. At this mansion, it's always summer in Paris. 
Stay tuned for more installments of Vegas' most unique homes.
Disclaimer: I am not the listing agent or represent the listing of this property. The intent of the article is for entertainment and newsworthy purposes.