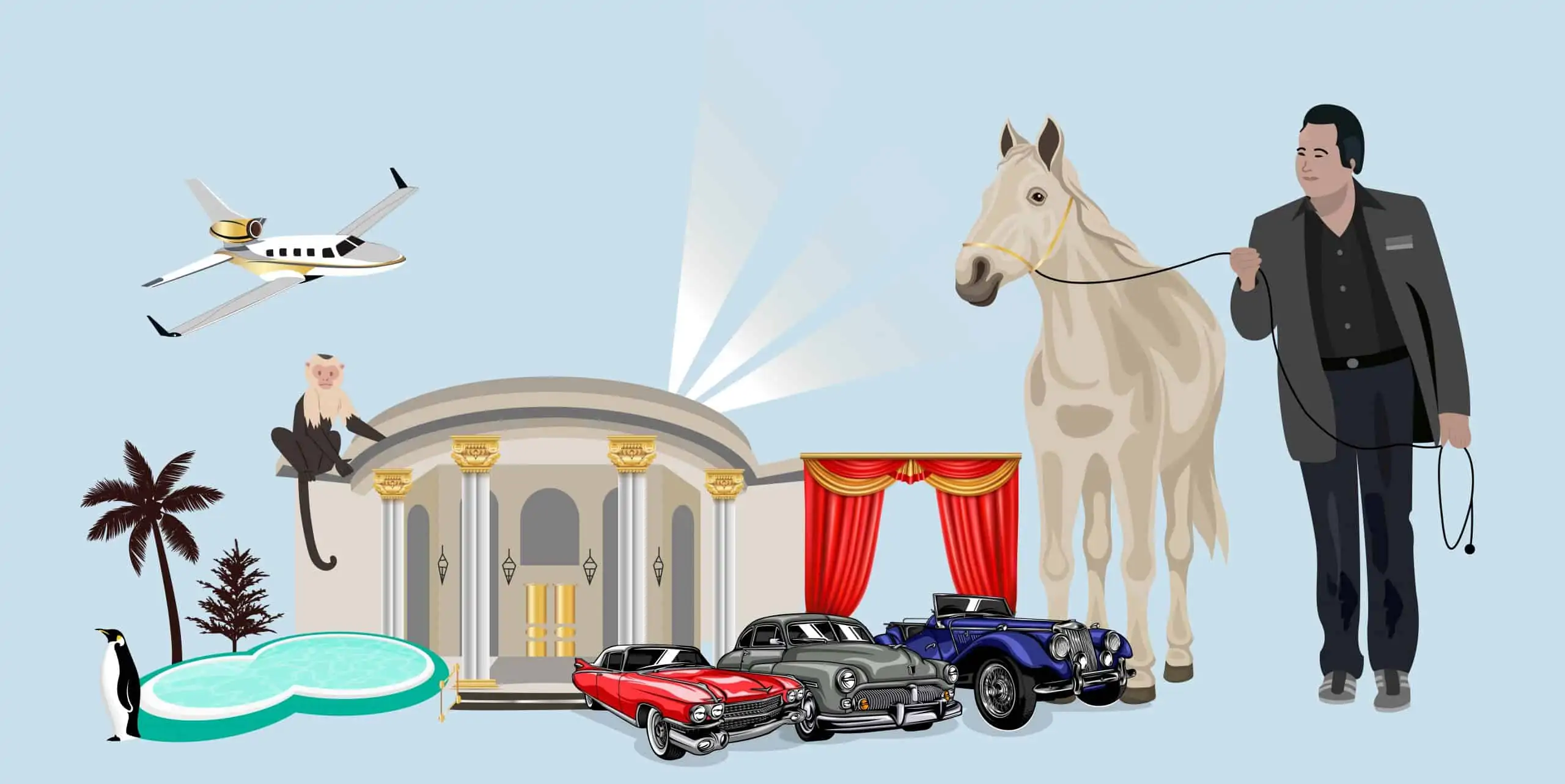 By  Liz Chaffin
Casa de Shenandoah is as storied a place as one might imagine from its name. The expansive estate built by Wayne Newton was both an homage to his upbringing in Virginia's idyllic Shenandoah Valley, his Native American heritage and the epitome of all that is beautiful in life. He and his family no longer own the home, but while he was in residence, the place was nothing short of magical. Water fountains dancing to Wayne's most popular songs: check. Arabian horses swimming in their own dedicated pool: check. Enough grandeur and style to last several lifetimes: check and check. Casa de Shenandoah truly embodied all the rich smoothness of this crooner's timeless voice. Stepping inside this compound was like stepping inside Danke Schoen—only you were thanking him for all the joy.
And possibly the pain, too. Because there was no way to experience all the wonders of this magnificent oasis without a little heartbreak when you leave. It was probably the horses that left you longing to return. Nearly three-dozen majestic Arabian stallions frolicked among the prancing peacocks and other wild animals that roamed the mansion's 25 lush acres. Wayne basically recreated the serenity of Virginia's picturesque valleys with a dash of exotic menagerie thrown in for good measure. And why not? If you can afford to build an estate whose blueprints come straight from your dreams, you really should. 
For those whose hearts beat a little faster when confronted with mementos of celebrities long past, Casa de Shenandoah had plenty of that, too. The personal effects were a who's who of icons including past presidents, Hollywood royalty and music legends. In fact, the mansion and museums inside this compound held enough nostalgia to keep a tear in your eye even after the property's concrete walls were well in your rearview mirror. 
There was also the collection of luxury cars befitting a man whose jet black pompadour is as famous and silky as his voice. You could also experience what it was like to fly Wayne class while strolling the cabin of his private jet offering flights of fancy. And let's not forget the home itself. (Is "home" a big enough word for a mansion like this?) That mirrors adorned the bathroom ceilings was all you needed to know to understand the opulence which awaited when you walked through the oversized front doors. There was also lots of gold trim, of course, along with carpets and furnishings worthy of royalty—fitting for Mr. Las Vegas. 
Ultimately, Casa de Shenandoah is a time capsule salute to mid-century glamour. Regardless of the new owners' future plans, it will leave as much of an imprint on American culture as the legendary singer himself. For this unique legacy, we say Danke schoen, Wayne. Danke schoen.
Stay tuned for our next installment of Vegas' most unique homes.
Disclaimer: I am not the listing agent or represent the listing of this property. The property is listed by Luxe Estates and Lifestyles. The article is for entertainment and newsworthy purposes.  If you are interested in this home and have yet to secure representation, please reach out for more information.