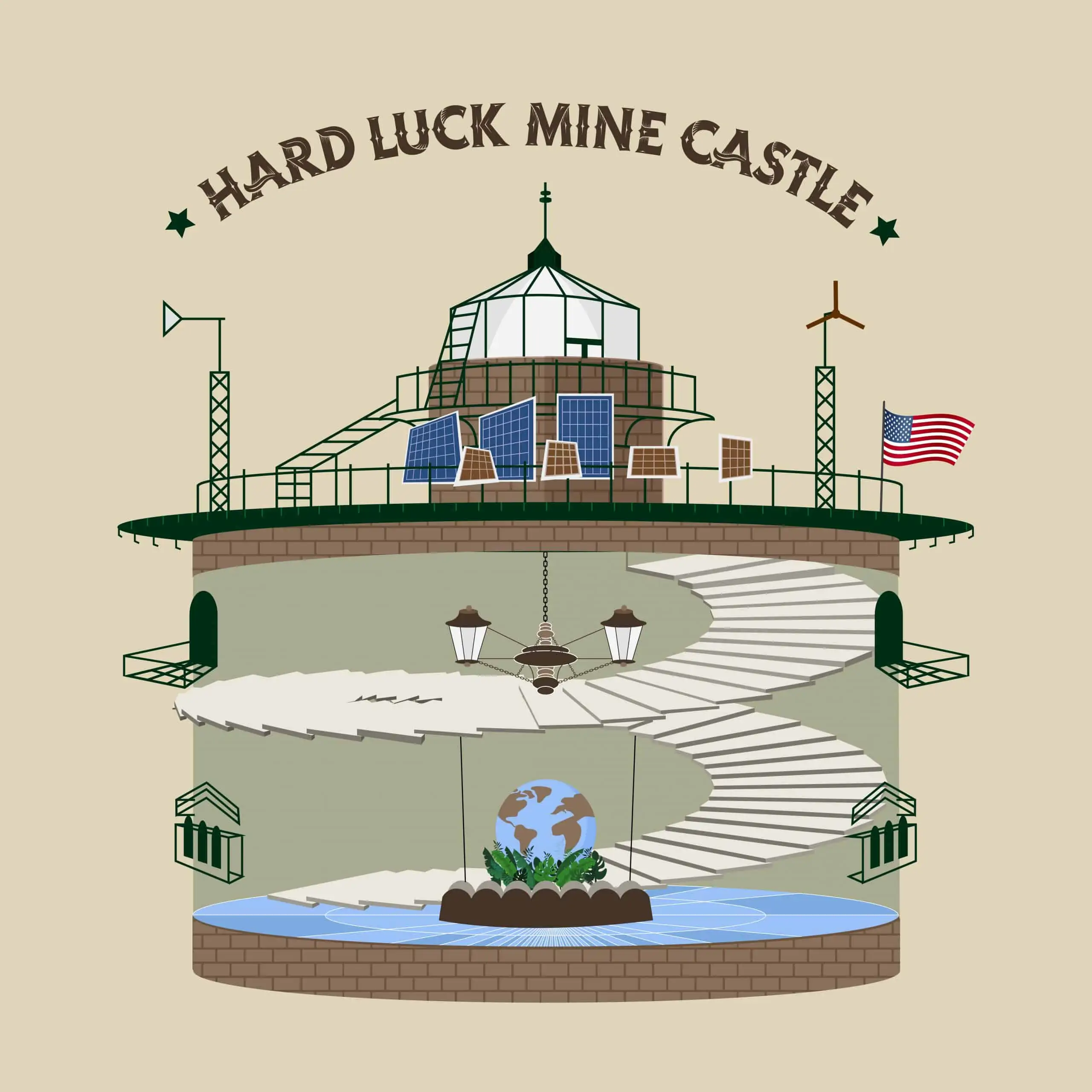 By  Liz Chaffin
Some homes boast state-of-the-art kitchens and resort-style pools. Others
highlight their architectural details and spacious floor plans. Yet, every once in a
while, you might come across a home where the number one feature is isolation.
The Hard Luck Mine Castle is such a place, and you can head out into the desert
and admire it for yourself. The residence is constructed specifically for living off
the grid, because you never know when you might want to truly leave all things
civilization behind.
You'll find it atop Gold Mountain, a roughly 6,000-foot altitude, 35 miles south of
Goldfield, Nevada. Goldfield is an abandoned ghost town where 268 souls still
resided per the 2010 census. The nearest metro area is Las Vegas, just a quick
187 miles away. It's a nice little day trip for Vegas residents who are looking for
some ideas on getting away from it all (emphasis on "it all"), or just want
something quirky to do with the family on a Saturday.
Now "castle" is not the most apt description. This home/bunker is really a round
fortress with a large phallic window and a frog green metal balcony that circles its
perimeter, which doubles as a nice place from which to admire the view. You can
see for miles here, and about every star there is to gaze upon. The building
materials include steel, concrete, cinder blocks and glass. The structure is
supposed to last 400-500 years.
To pass the time while getting in touch with yourself, there are two kitchens
where you can finally perfect any recipes you've been struggling with or learn to
make your own wine—which you can store in the wine cellar. There's a theater
and a game room to keep residents entertained. Relax in the solarium. Admire
the stars in the planetarium. Or get your Zen on while listening to water running
in the fountain room featuring a sculpture of buxom women and spewing frogs.
Everything here is designed to deliver inner peace.
Since off the grid doesn't necessarily mean you have to rough it entirely, the
house comes equipped with solar and wind systems to keep your gadgets going.
It is entirely self-sustaining, so you won't need to borrow anything from your
neighbors because, well, what neighbors? And since there is no one living within
earshot, you can feel free to tinker on the two vintage pipe organs all night long.
The home also sits on 4 acres, which includes a dormant gold mine. Rumor has
it that there's still some gold left to find in that mountain, but you'll be digging at
your own risk.
You'll find this home just off highway 157. You can't miss it. There's a large tower
sculpture at the entrance featuring the names of every president carved into its
sides. If you're curious, tours are offered between 10 and 3. They are worth the
trip. A unique home like this doesn't come around but once in a lifetime.
Disclaimer: I am not the listing agent or represent the listing of this property. The article is for entertainment and newsworthy purposes.