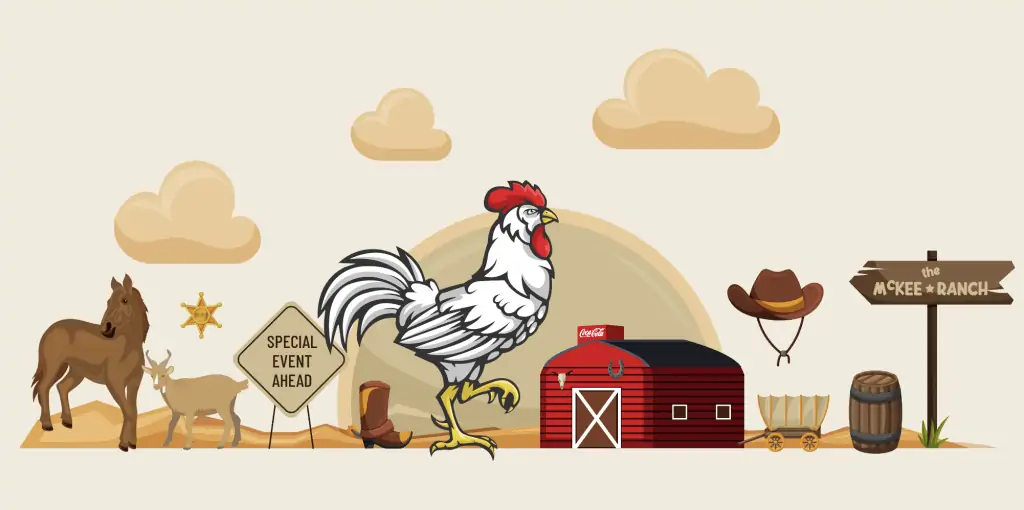 By Liz Chaffin
It's here a cluck, there a cluck, everywhere a cluck, cluck at McKee Ranch In Las Vegas. Located a couple miles south of the Silverton Casino, this throwback to Vegas' early days persists as a quaint place to enjoy the simple things in life—like feeding horses, pigs and chickens. If you want to experience a little bit of farm living, look no further than Dean Martin Drive.
McKee Ranch is indeed a working ranch. You won't find a neon sign anywhere on this 2.5 acre property—though casinos can be found dotting the horizon in every direction. There is a giant rooster sculpture at the ranch's entrance to let you know you've come to the right place. Signs for fresh eggs also sit by the road and bid you to pull over and pick up a dozen. The ranch is lovingly run by "Cowboy" Max McKee, who bought it 20 years ago and opened it to the public in 2004. McKee and his family never dreamed they would operate a farm for all of the Vegas Valley to enjoy, but with their annual pumpkin patch and other events, McKee Ranch is the perfect place for families to carve out some good old fashion quality time.
In fact, the McKee encourages you to come bearing gifts of carrots and crackers for the animals. The ranch's permanent residents include horses, donkeys, pigs, goats, rabbits, geese and lots of chickens. Pony rides and hayrides are available. If you're feeling adventurous, there's a corn maze to test your sense of direction.
After decades of caring for the animals, the McKee's are in search of new owners who will take over the foundation and continue to provide locals with a little piece of farm heaven. Until the right buyer is found, folks can continue to visit and enjoy. Or, if you've got a love for animals, you might consider continuing the legacy. After all, every city could use a rural go-to that reminds us all how beautiful nature can be. 
Disclaimer: I am not the listing agent or represent the listing of this property. The property is listed by eXp Realty. The article is for entertainment and newsworthy purposes.  If you are interested in this home and have yet to secure representation, please reach out for more information.